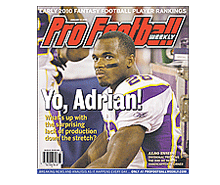 PFW Online: Vol. 24, Issue 27
Published: 2010-01-11
Cover Date: January 17, 2010
This is the issue for divisional playoff previews and wild-card game coverage.
COVER STORY
We examine the reasons why Vikings RB Adrian Peterson has been uncharacteristically quiet much of the second half of the season.
UNDER THE RADAR
The Colts' great season has been a true team effort. Here's a look at five of the more underappreciated Indy players.
FIXING THE SAINTS
The Saints stumbled into the playoffs on a three-game losing streak. We look at how they can turn things around and make a Super Bowl run.
MR. DECEMBER
Chargers QB Philip Rivers, who hasn't lost a start in the month of December, hopes to add to his clutch late-season play in these playoffs.
COACHING CAROUSEL
The Redskins made the biggest splash as soon as the regular season ended by hiring Mike Shanahan. Find out about other coaching moves.
DEPARTMENTS
The Way We See It
The Way We Hear It
Fantasy football: Early 2010 player rankings, Fantasy Doctor
Opinion: Editorial, letters, Publisher's Pen
Columnists: Eric Edholm, Ron Borges, Dan Arkush's A-bombs
Handicapper's Corner: Staff selections, Mike Wilkening column
Divisional playoff game previews
Wild-card game coverage
AFC pacsetters
Team statistics
Team rankings
NFC pacesetters
Audibles
NFList: Ranking the 2010 Hall of Fame finalists
PFW Online
PFW Online is the electronic version of our Pro Football Weekly print newsmagazine.
We publish 30 issues throughout the year, weekly during the season and monthly during the offseason, and these issues are made available to PFW Online members in PDF format.
Since our electronic edition is always available by 7 p.m. ET on the day that it's published, it's your fastest way to get an issue of Pro Football Weekly.
You'll have access to everything in our print edition in the same familiar look and feel, plus a fully-searchable and easy way to enjoy it.