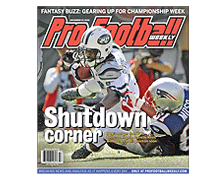 PFW Online: Vol. 24, Issue 24
Published: 2009-12-21
Cover Date: December 27, 2009
This is the issue for Week 16 previews and Week 15 game coverage.
COVER STORY
New York's Darrelle Revis is considered by some to be the best cornerback playing in the NFL today. But the third-year pro continues to work every day — in-season and in the offseason — to get even better.
NO-NAME DEFENSE
The Bengals' defense may be lacking star power but defensive coordinator Mike Zimmer's unit has been one of the NFL's stingiest in 2009.
ALL-AMERICA TEAM
PFW personnel analyst Nolan Nawrocki releases his list of the top performers by position of the 2009 college season.
DEPARTMENTS
The Way We See It
Power rankings
The Way We Hear It
Opinion: Editorial, letters, Publisher's Pen
Columnists: Dan Parr, Barry Jackson, Dan Arkush's A-bombs
Handicapper's Corner: Staff selections, Mike Wilkening column
Week 16 game previews
Week 15 game coverage
AFC statistical leaders
Team statistics
Team rankings
NFC statistical leaders
2010 draft feature
Audibles
NFL transactions
PFW Online
PFW Online is the electronic version of our Pro Football Weekly print newsmagazine.
We publish 30 issues throughout the year, weekly during the season and monthly during the offseason, and these issues are made available to PFW Online members in PDF format.
Since our electronic edition is always available by 7 p.m. ET on the day that it's published, it's your fastest way to get an issue of Pro Football Weekly.
You'll have access to everything in our print edition in the same familiar look and feel, plus a fully-searchable and easy way to enjoy it.