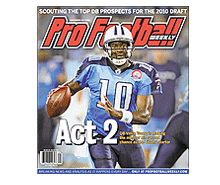 PFW Online: Vol. 24, Issue 23
Published: 2009-12-14
Cover Date: December 20, 2009
This is the issue for Week 15 previews and Week 14 game coverage.
COVER STORY
In a matter of four short seasons, Titans QB Vince Young has gone from Rookie of the Year to backup with no future to a leading contender for Comeback Player of the Year honors.
PATRIOT PROBLEMS
New England's normally staunch defense has suffered several uncharacteristic collapses in 2009. We examine the reasons behind the decline.
FANTASY FOOTBALL
With the playoffs in most leagues now raging in full force, PFW fantasy expert Michael Blunda reveals matchups to exploit or avoid and other notes to help you field a winner.
DEPARTMENTS
The Way We See It
Power rankings
The Way We Hear It
Opinion: Editorial, letters, Publisher's Pen
Columnists: Eric Edholm, Ron Borges, Dan Arkush's A-bombs
Handicapper's Corner: Staff selections, Mike Wilkening column
Week 15 game previews
Week 14 game coverage
AFC statistical leaders
Team statistics
Team rankings
NFC statistical leaders
2010 NFL draft notes
2010 NFL draft: Top DB prospects
NFL transactions
Audibles
PFW Online
PFW Online is the electronic version of our Pro Football Weekly print newsmagazine.
We publish 30 issues throughout the year, weekly during the season and monthly during the offseason, and these issues are made available to PFW Online members in PDF format.
Since our electronic edition is always available by 7 p.m. ET on the day that it's published, it's your fastest way to get an issue of Pro Football Weekly.
You'll have access to everything in our print edition in the same familiar look and feel, plus a fully-searchable and easy way to enjoy it.