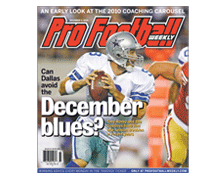 PFW Online: Vol. 24, Issue 21
Published: 2009-11-30
Cover Date: December 6, 2009
This is the issue for Week 13 previews and Week 12 game coverage.
COVER STORY
During Tony Romo's tenure as starting quarterback in Dallas, the Cowboys have struggled down the stretch. We tell you why Romo and the 'Boys might have turned the corner and could make a postseason run.
STATUS REPORT
We examine the NFL head-coaching landscape and rate all 32 current coaches, telling you their prospects for next season and beyond.
TOP DL PROSPECTS
PFW draft expert Nolan Nawrocki has studied the crop of senior defensive linemen and tells you which ones project best to the NFL. He also looks at the underclassmen who are expected to declare for the draft.
DEPARTMENTS
The Way We See It
Power rankings
The Way We Hear It
Opinion: Editorial, letters, Publisher's Pen
Columnists: Tom Danyluk, Ron Borges, Dan Arkush's A-bombs
Fantasy football: Fantasy Buzz, Fantasy Doctor column
Handicapper's Corner: Staff selections, Mike Wilkening column
Week 13 game previews
Week 12 game coverage
AFC pacesetters
Team statistics
Team rankings
NFC pacesetters
2010 NFL draft notes
NFL transactions
Audibles
PFW Online
PFW Online is the electronic version of our Pro Football Weekly print newsmagazine.
We publish 30 issues throughout the year, weekly during the season and monthly during the offseason, and these issues are made available to PFW Online members in PDF format.
Since our electronic edition is always available by 7 p.m. ET on the day that it's published, it's your fastest way to get an issue of Pro Football Weekly.
You'll have access to everything in our print edition in the same familiar look and feel, plus a fully-searchable and easy way to enjoy it.