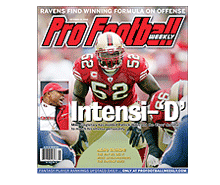 PFW Online: Vol. 24, Issue 15
Published: 2009-10-19
Cover Date: October 25, 2009
This is the issue for Week Seven previews and Week Six game coverage.
COVER STORY
With star ILB Patrick Willis as the centerpiece, 49ers head coach Mike Singletary is remaking the team's defense in his fiery, intense image.
GETTING OFFENSIVE
A rising, young quarterback and a top-notch offensive coordinator have given the Ravens the offensive punch the team had lacked for years.
HANDICAPPER'S CORNER
Find out which teams the PFW editors are picking against the spread and straight-up for Week Seven, along with our consensus best bets. Plus, Mike Wilkening illustrates how much the downtrodden Raiders have struggled against the spread since losing Super Bowl XXXVII.
DEPARTMENTS
The Way We See It
Power rankings
The Way We Hear It
Opinion: Editorial, letters, Publisher's Pen
Columnists: Eric Edholm, Ron Borges, Dan Arkush's A-bombs
Fantasy football: Fantasy Buzz, Fantasy Doctor column
Handicapper's Corner: Staff selections, Mike Wilkening column
Week Seven game previews
Week Six game coverage
Individual statistical leaders
Team statistics
Team rankings
2010 NFL draft notes
UFL coverage
NFL transactions
Audibles
NFList: The NFL's oldest and youngest players
PFW Online
PFW Online is the electronic version of our Pro Football Weekly print newsmagazine.
We publish 30 issues throughout the year, weekly during the season and monthly during the offseason, and these issues are made available to PFW Online members in PDF format.
Since our electronic edition is always available by 7 p.m. ET on the day that it's published, it's your fastest way to get an issue of Pro Football Weekly.
You'll have access to everything in our print edition in the same familiar look and feel, plus a fully-searchable and easy way to enjoy it.