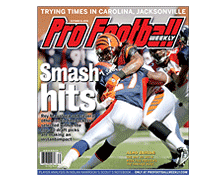 PFW Online: Vol. 24, Issue 13
Published: 2009-10-05
Cover Date: October 11, 2009
This is the issue for Week Five previews and Week Four game coverage.
COVER STORY
Of the eight linebackers who were selected among the top 40 picks in April's draft, five already have established themselves as starters, proving what a standout rookie LB crop the 2009 draft produced.
SOUTHERN DISCOMFORT
The Panthers and Jaguars entered the NFL together as expansion teams in 1995, and they appear to be experiencing similar growing pains in their 15th season in the league.
FANTASY FOOTBALL
The Fantasy Buzz presents trends to be aware of, which players to exploit or avoid, and the latest fantasy news heading into Week Five.
DEPARTMENTS
The Way We See It
Power rankings
The Way We Hear It
Opinion: Editorial, letters, Publisher's Pen
Columnists: Eric Edholm, Ron Borges, Dan Arkush's A-bombs
Handicapper's Corner: Staff selections, Mike Wilkening column
Week Five game previews
NFL transactions
Week Four game coverage
Individual stats leaders
Team statistics
Team rankings
2010 NFL draft notes
Audibles
NFList: Who are the best special-teams coverage aces?
PFW Online
PFW Online is the electronic version of our Pro Football Weekly print newsmagazine.
We publish 30 issues throughout the year, weekly during the season and monthly during the offseason, and these issues are made available to PFW Online members in PDF format.
Since our electronic edition is always available by 7 p.m. ET on the day that it's published, it's your fastest way to get an issue of Pro Football Weekly.
You'll have access to everything in our print edition in the same familiar look and feel, plus a fully-searchable and easy way to enjoy it.