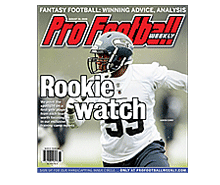 PFW Online: Vol. 24, Issue 08
Published: 2009-08-17
Cover Date: August 30, 2009
This is the third fantasy football issue of the season and the second installment of training-camp reports.
SPECIAL FANTASY FOOTBALL INSERT #2
Fantasy ticker: With the preseason under way, we look at whose fantasy value is quickly rising and which players have recently experienced setbacks.
Experts roundtable: Six fantasy football experts answer the most pressing questions for the 2009 season and beyond.
Ask the Fantasy Doc: PFW's resident fantasy football expert answers readers' queries.
Auction values: Preparing for an auction draft? We'll break down how much you should spend on each player.
Fantasy Buzz: We give you the latest fantasy scoop for each team, by division.
Stock market: PFW's popular fantasy game is back for another season! Learn how the '08 champ triumphed.
Column: Fantasy football analyst Michael Blunda offers his thoughts on what to watch for this preseason.
Contract years: Find out which players could be motivated to put up big numbers to enhance their market value.
Fantasy draft board: Our exclusive, updated rankings of the top players by position.
TRAINING-CAMP REPORTS
We tell you about a veteran to watch, rookie to watch, strongest position and weakest position for all 32 teams.
PFW HUMANITARIAN AWARD
Colts LB Gary Brackett's work in the community with his IMPACT Foundation makes him a worthy winner of this year's humanitarian award.
DEPARTMENTS
The Way We See It
Power rankings
The Way We Hear It
Opinion: Editorial, letters, Barry Jackson
Columnists: Publisher's Pen, Dan Arkush's A-bombs
NFL transactions, preseason schedule
Audibles
NFList: Michael Vick's greatest NFL games
PFW Online
PFW Online is the electronic version of our Pro Football Weekly print newsmagazine.
We publish 30 issues throughout the year, weekly during the season and monthly during the offseason, and these issues are made available to PFW Online members in PDF format.
Since our electronic edition is always available by 7 p.m. ET on the day that it's published, it's your fastest way to get an issue of Pro Football Weekly.
You'll have access to everything in our print edition in the same familiar look and feel, plus a fully-searchable and easy way to enjoy it.