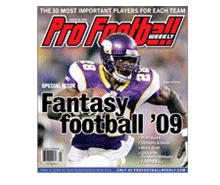 PFW Online: Vol. 24, Issue 07
Published: 2009-08-03
Cover Date: August 16, 2009
This is the second fantasy football issue of the season.
SPECIAL FANTASY FOOTBALL INSERT #2

Q&A With DeAngelo Williams: PFW speaks with Panthers RB DeAngelo Williams about fantasy football, RBs he likes to watch and his expectations for 2009.
Sleepers and busts: We identify which players fantasy owners should target and whom they should ignore on draft day.
New offensive systems: Plenty of clubs will implement new offenses in '09. Here's a team-by-team breakdown of what fantasy managers can expect.
Mock draft: See where PFW's editors picked players in a 12-team snake draft.
Fantasy Buzz: We give you the latest fantasy scoop for each team by division.
Fantasy draft board: Our exclusive, updated rankings of the top players by position.
MOST IMPORTANT PLAYERS
Find out which players are most indispensible to their respective teams as PFW's editors select the 10 most important players for all 32 teams.
ANOTHER NFL GREAT GONE
Hub Arkush says in his Publisher's Pen column that former Eagles defensive coordinator Jim Johnson was one of the all-time best at his job.
DEPARTMENTS
The Way We See It
The Way We Hear It
Opinion: Editorial, letters
Columnists: Matt Sohn, Ron Borges, Dan Arkush's A-bombs
NFL transactions, 2009 first-round signings chart, preseason schedule
Audibles
NFList: Teams with the biggest post-Super Bowl letdowns
PFW Online
PFW Online is the electronic version of our Pro Football Weekly print newsmagazine.
We publish 30 issues throughout the year, weekly during the season and monthly during the offseason, and these issues are made available to PFW Online members in PDF format.
Since our electronic edition is always available by 7 p.m. ET on the day that it's published, it's your fastest way to get an issue of Pro Football Weekly.
You'll have access to everything in our print edition in the same familiar look and feel, plus a fully-searchable and easy way to enjoy it.