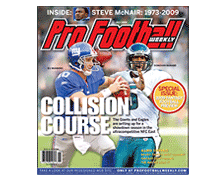 PFW Online: Vol. 24, Issue 05
Published: 2009-07-06
Cover Date: July 2009
This is the first of three fantasy football issues of the season.
SPECIAL FANTASY FOOTBALL INSERT
QB reports: Drew Brees heads the rankings of the top 20 fantasy quarterbacks.
RB reports: We know Adrian Peterson is the top fantasy back. Who's No. 2?
WR reports: Larry Fitzgerald isn't the only stud wide receiver to think about.
TE reports: The usual suspects are still the best of the tight ends.
PK/Defense reports: Find out which placekickers and defenses are poised for big years.
Fantasy Buzz: We give you the latest fantasy scoop for each team by division.
Fantasy draft board: Our exclusive, updated rankings of the top players by position.
HOLIDAY TRAGEDY
The NFL was deeply saddened by the news that former star QB Steve McNair had been shot to death in a Nashville condominium on July 4.
TEAMS TO BEAT
Eric Edholm examines the fierce rivalry between the Giants and the Eagles. Why have they risen to the top of the ultracompetitive NFC East, and what impact will their big offseason acquisitions have in 2009?
DEPARTMENTS
The Way We Hear It
Opinion: Editorial, letters, Publisher's Pen, columnists: Ron Borges, Eric Edholm, Dan Arkush's A-bombs
2010 NFL draft notes
NFL transactions
2009 preseason schedule
Power rankings
Free-agency updates
Audibles
NFList: What are Brett Favre's top five seasons?
PFW Online
PFW Online is the electronic version of our Pro Football Weekly print newsmagazine.
We publish 30 issues throughout the year, weekly during the season and monthly during the offseason, and these issues are made available to PFW Online members in PDF format.
Since our electronic edition is always available by 7 p.m. ET on the day that it's published, it's your fastest way to get an issue of Pro Football Weekly.
You'll have access to everything in our print edition in the same familiar look and feel, plus a fully-searchable and easy way to enjoy it.