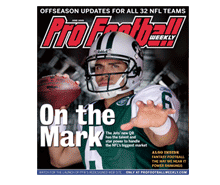 PFW Online: Vol. 24, Issue 04
Published: 2009-06-01
Cover Date: June 2009
This is the offseason team reports issue.
COVER STORY
Mark Sanchez is the latest glamour quarterback from USC to enter the NFL. We take a look at how Sanchez became the Jets' QB of the future and what his chances are of winning the starting job in 2009.
NO DOWNTIME
The NFL's unending wheel continued to spin this offseason. Which teams accomplished the most? Which have the most work still to do? Plus, we tell you which coaches are on the hot seat, which teams the oddsmakers like most and which second-day draft picks could have the biggest impact as rookies.
FANTASY FOOTBALL
PFW fantasy writer Michael Blunda takes a look at the top 10 veterans who will be playing for new teams in 2009.
DEPARTMENTS
The Way We See It
Power rankings
The Way We Hear It
Opinion: editorial, letters, Publisher's Pen
Columnists: Mike Wilkening, Barry Jackson, Dan Arkush's A-bombs
PFW Online
PFW Online is the electronic version of our Pro Football Weekly print newsmagazine.
We publish 30 issues throughout the year, weekly during the season and monthly during the offseason, and these issues are made available to PFW Online members in PDF format.
Since our electronic edition is always available by 7 p.m. ET on the day that it's published, it's your fastest way to get an issue of Pro Football Weekly.
You'll have access to everything in our print edition in the same familiar look and feel, plus a fully-searchable and easy way to enjoy it.