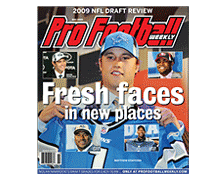 PFW Online: Vol. 24, Issue 03
Published: 2009-04-27
Cover Date: May 2009
This is the 2009 NFL post-draft issue.
COVER STORY
PFW draft analyst Nolan Nawrocki takes you behind the scenes of what happened in this year's NFL draft, telling you what happened and why, and how it will impact the pro football landscape in 2009.
TEAM-BY-TEAM ANALYSIS
We break down how each and every player chosen in the draft will fit with his new team.
THE FANTASY DOCTOR
PFW's resident fantasy football expert, Michael Blunda, offers up his list of the top 10 youngsters most likely to break out and reward those brave enough to gamble on rookies in this summer's fantasy drafts.
DEPARTMENTS
The Way We See It
Draft-day reaches and steals
The Way We Hear It
Final player rankings
Round-by-round draft list
Position-by-position draft list
Opinion: editorial, letters, Publisher's Pen
Columnists: Dan Parr, Ron Borges,
Dan Arkush's A-bombs
2009 NFL team-by-team schedules
2009 NFL week-by-week schedule
NFL transactions
Free-agency update
Audibles
NFList: High draft picks outplayed by lower-round peers
PFW Online
PFW Online is the electronic version of our Pro Football Weekly print newsmagazine.
We publish 30 issues throughout the year, weekly during the season and monthly during the offseason, and these issues are made available to PFW Online members in PDF format.
Since our electronic edition is always available by 7 p.m. ET on the day that it's published, it's your fastest way to get an issue of Pro Football Weekly.
You'll have access to everything in our print edition in the same familiar look and feel, plus a fully-searchable and easy way to enjoy it.