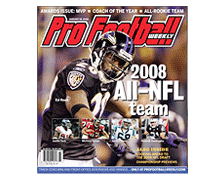 PFW Online: Vol. 23, Issue 28
Published: 2009-01-12
Cover Date: January 18, 2009
This is the issue for conference championship previews and divisional playoff game coverage.
AWARDS SECTION
Pro Football Weekly and the Professional Football Writers of America proudly present their annual All-Pro team, headlined by MVP Peyton Manning and Defensive Player of the Year James Harrison. Also, find out who our picks are for top executive, top head coach, top assistant coach, best offensive rookie, best defensive rookie, Comeback Player of the Year and Most Improved Player. Plus, see who made our All-AFC and All-NFC teams and All-Rookie team for the entire league.
ON THE CLOCK
We asked our correspondents in Detroit, St. Louis, Kansas City and Seattle — the first four teams scheduled to select in the 2009 NFL draft — to analyze their respective teams and tell you the top three positions each franchise needs to address in the draft.
DEPARTMENTS:
The Way We See It
The Way We Hear It
Opinion: Editorial, letters, Publisher's Pen
Columnists: Jerry Magee, Barry Jackson, Dan Arkush's A-bombs
Handicapper's Corner: Staff selections, Stephen Nover column
NFL transactions
Conference championship previews
Divisional playoffs coverage
Audibles
NFList: Ranking the backup quarterbacks for the final four playoff teams?
PFW Online
PFW Online is the electronic version of our Pro Football Weekly print newsmagazine.
We publish 30 issues throughout the year, weekly during the season and monthly during the offseason, and these issues are made available to PFW Online members in PDF format.
Since our electronic edition is always available by 7 p.m. ET on the day that it's published, it's your fastest way to get an issue of Pro Football Weekly.
You'll have access to everything in our print edition in the same familiar look and feel, plus a fully-searchable and easy way to enjoy it.