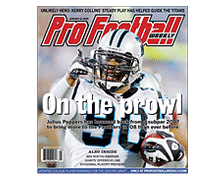 PFW Online: Vol. 23, Issue 27
Published: 2009-01-05
Cover Date: January 11, 2009
This is the issue for divisional playoff previews and wild-card game coverage.
Panthers DE Julius Peppers has rebounded in a big way from the worst season of his pro career by resuming his place as one of the most feared pass rushers in the league and emerging as a vocal team leader.
QB Ben Roethlisberger's up-and-down play has left the Steelers' offense searching for answers as it prepares for the postseason.
BACK IN THE SADDLE
The veteran experience and savvy of QB Kerry Collins arguably have been the missing pieces to a Titans offense that helped produce a league-best 13 victories in 2008.
PAVING THE WAY
The Giants' offensive line has been an underrated key to the defending champions' success, protecting Eli Manning and guiding both Brandon Jacobs and Derrick Ward to more than 1,000 rushing yards.
DEPARTMENTS
The Way We See It
The Way We Hear It
Opinion: Editorial, letters, Publisher's Pen
Columnists: Jerry Magee, Ron Borges, Dan Arkush's A-bombs
Fantasy football: 2009 rankings, Fantasy Doctor
Handicapper's Corner: Staff selections, Stephen Nover column
NFL transactions
Divisional-round game previews
Wild-card game coverage
AFC individual stats leaders
Team statistics
Team rankings
NFC individual stats leaders
Draft feature: Baylor OT Jason Smith
2009 NFL draft notes
Audibles
NFList: Which team with a coaching vacancy will bounce back best in 2009?
PFW Online
PFW Online is the electronic version of our Pro Football Weekly print newsmagazine.
We publish 30 issues throughout the year, weekly during the season and monthly during the offseason, and these issues are made available to PFW Online members in PDF format.
Since our electronic edition is always available by 7 p.m. ET on the day that it's published, it's your fastest way to get an issue of Pro Football Weekly.
You'll have access to everything in our print edition in the same familiar look and feel, plus a fully-searchable and easy way to enjoy it.