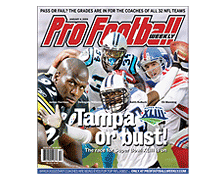 PFW Online: Vol. 23, Issue 26
Published: 2008-12-29
Cover Date: January 4, 2009
This is the issue for wild-card previews and Week 17 game coverage.
COVER STORY
Our in-depth reports for all 12 playoff teams include keys to offense, keys to defense, a player to watch and what each team must do to win Super Bowl XLIII.
MAKING THE GRADE
PFW's editors evaluate the jobs done by all of the NFL head coaches in 2008 and assign a grade to indicate their degree of success.
FANTASY FOOTBALL
Find out who made PFW's Fantasy All-Pro team, plus check out the Fantasy Buzz and final fantasy stats for 2008 to help you decide who to target for your team in '09.
The Way We See It
Power rankings
The Way We Hear It
Opinion: Editorial, letters, Publisher's Pen
Columnists: Jerry Magee, Barry Jackson, Dan Arkush's A-bombs
Handicapper's Corner: Staff selections, Stephen Nover column
NFL transactions
Wild-card playoff previews
Week 17 game coverage
AFC individual stats leaders
Team statistics
Team rankings
NFC individual stats leaders
Draft feature: North Carolina WRs Brooks Foster and Brandon Tate
2009 NFL draft notes
Audibles
NFList: Who were the top Pro Bowl snubs?
PFW Online
PFW Online is the electronic version of our Pro Football Weekly print newsmagazine.
We publish 30 issues throughout the year, weekly during the season and monthly during the offseason, and these issues are made available to PFW Online members in PDF format.
Since our electronic edition is always available by 7 p.m. ET on the day that it's published, it's your fastest way to get an issue of Pro Football Weekly.
You'll have access to everything in our print edition in the same familiar look and feel, plus a fully-searchable and easy way to enjoy it.