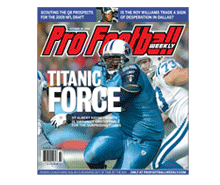 PFW Online: Vol. 23, Issue 16
Published: 2008-10-20
Cover Date: October 26, 2008
This is the issue for Week Eight previews and Week Seven game coverage.
COVER STORY
Even though he hasn't yet received the long-term contract he desires, Titans DT Albert Haynesworth is playing his best football and has helped Tennessee's defense be one of the stingiest in the NFL.
PRESSURE'S ON
We examine the many obstacles standing in the way of the Cowboys as they attempt to live up to the high expectations placed on them.
TOP QB PROSPECTS
Nolan Nawrocki's weekly positional series analyzing the top prospects for the 2009 draft kicks off with a look at a QB class that could be bolstered by underclassmen.
DEPARTMENTS
The Way We See It
Power rankings
The Way We Hear It
Opinion: Editorial, letters, Publisher's Pen
Columnists: Jerry Magee, Barry Jackson, Dan Arkush's a-bombs
Fantasy football: The Buzz, Fantasy Doctor, fantasy statistics
Handicapper's Corner: Staff selections, Stephen Nover column
Week Eight game previews
NFList: Who are the best short-yardage backs?
Week Seven game coverage
AFC individual stats leaders
Team statistics
Team rankings
NFC individual stats leaders
2009 NFL draft notes
Audibles
NFL transactions
PFW Online
PFW Online is the electronic version of our Pro Football Weekly print newsmagazine.
We publish 30 issues throughout the year, weekly during the season and monthly during the offseason, and these issues are made available to PFW Online members in PDF format.
Since our electronic edition is always available by 7 p.m. ET on the day that it's published, it's your fastest way to get an issue of Pro Football Weekly.
You'll have access to everything in our print edition in the same familiar look and feel, plus a fully-searchable and easy way to enjoy it.