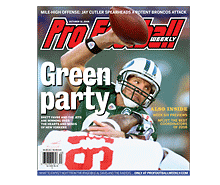 PFW Online: Vol. 23, Issue 14
Published: 2008-10-06
Cover Date: October 12, 2008
This is the issue for Week Six previews and Week Five game coverage.
ARE THE JETS FOR REAL?
The addition of Brett Favre has stabilized the QB position for the Jets, but are they legitimate playoff contenders? We look at the reasons for and against.
CUTLER IN CATBIRD SEAT
The third year has been the charm for Broncos QB Jay Cutler, who has stepped up his play, thanks to his own burgeoning talent and an improved cast of playmakers.
NO QUICK FIX
Now that the Rams and Raiders have made coaching changes, here's what else the underperforming teams must do to turn things around.
DEPARTMENTS
The Way We See It
Power rankings
The Way We Hear It
Opinion: Editorial, letters, Publisher's Pen
Columnists: Jerry Magee, Barry Jackson, Dan Arkush's a-bombs
Fantasy football: The Buzz, Fantasy Doctor, fantasy statistics
Handicapper's Corner: Staff selections, Stephen Nover column
Week Six game previews
Week Five game coverage
Individual stats leaders
Team statistics
Team rankings
2009 NFL draft notes
Audibles
NFList: Which coordinators have done the best job?
PFW Online
PFW Online is the electronic version of our Pro Football Weekly print newsmagazine.
We publish 30 issues throughout the year, weekly during the season and monthly during the offseason, and these issues are made available to PFW Online members in PDF format.
Since our electronic edition is always available by 7 p.m. ET on the day that it's published, it's your fastest way to get an issue of Pro Football Weekly.
You'll have access to everything in our print edition in the same familiar look and feel, plus a fully-searchable and easy way to enjoy it.