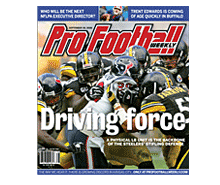 PFW Online: Vol. 23, Issue 12
Published: 2008-09-22
Cover Date: September 28, 2008
This is the issue for Week Four previews and Week Three game coverage.
Trent Edwards is showing signs of becoming the franchise quarterback the Bills thought he could be when they selected him in the third round of the 2007 draft.
COVER STORY
Thanks to a fearsome fivesome of linebackers, the Steelers are evoking memories of past defensive glory. We introduce you to the 'backers who are revitalizing the Steelers' defense.
NEXT NFLPA LEADER
We handicap the top candidates to succeed the late Gene Upshaw as the NFL Players Association's executive director.
DEPARTMENTS
The Way We See It
Power rankings
The Way We Hear It
Opinion: Editorial, letters, Publisher's Pen
Columnists: Jerry Magee, Barry Jackson, Dan Arkush's A-Bombs
Fantasy Football: The Buzz, Fantasy Doctor, fantasy statistics
Handicapper's Corner: Staff selections, Stephen Nover column
Week Four game previews
Week Three game coverage
Team statistics
Team rankings
Individual stats leaders
2009 NFL draft notes
Audibles
NFList: Which safeties have the most range?
PFW Online
PFW Online is the electronic version of our Pro Football Weekly print newsmagazine.
We publish 30 issues throughout the year, weekly during the season and monthly during the offseason, and these issues are made available to PFW Online members in PDF format.
Since our electronic edition is always available by 7 p.m. ET on the day that it's published, it's your fastest way to get an issue of Pro Football Weekly.
You'll have access to everything in our print edition in the same familiar look and feel, plus a fully-searchable and easy way to enjoy it.