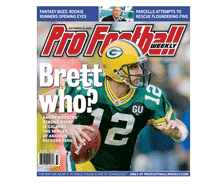 PFW Online: Vol. 23, Issue 11
Published: 2008-09-15
Cover Date: September 21, 2008
This is the issue for Week Three previews and Week Two game coverage.
COVER STORY
Who are the six new starting quarterbacks in 2008, and where did they come from? PFW offers in-depth analysis of the six first-time starters and gives a scouting report and NFL insider's quote for each.
THE PARCELLS WAY
Bill Parcells brought a proven track record of success to the flagging Dolphins franchise. How is he pointing Miami in the right direction?
PFW's Nolan Nawrocki looks at how some of the top pro prospects are faring and shares what he's hearing from college scouts. Plus, Matt Sohn reports from Los Angeles on the big Ohio State-USC battle.
DEPARTMENTS
The Way We See It
Power rankings
The Way We Hear It
Opinion: editorial, letters, Publisher's Pen
Columnists: Jerry Magee, Ron Borges, Dan Arkush's A-bombs
Fantasy football: The Buzz, Fantasy doctor, Fantasy statistics
Handicapper's corner: Staff selections, Stephen Nover column
Week Three game previews
Week Two game coverage
Individual stats leaders
Team statistics
Team rankings
Audibles
NFList: Who's most dangerous receiver after the catch?
PFW Online
PFW Online is the electronic version of our Pro Football Weekly print newsmagazine.
We publish 30 issues throughout the year, weekly during the season and monthly during the offseason, and these issues are made available to PFW Online members in PDF format.
Since our electronic edition is always available by 7 p.m. ET on the day that it's published, it's your fastest way to get an issue of Pro Football Weekly.
You'll have access to everything in our print edition in the same familiar look and feel, plus a fully-searchable and easy way to enjoy it.