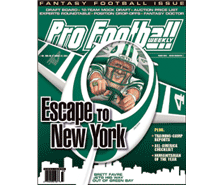 PFW Online: Vol. 23, Issue 08
Published: 2008-08-18
Cover Date: August 24, 2008
This is the third fantasy football issue of the season and the second installment of training-camp reports.
The Buzz
12-team mock draft
Q&A with the Fantasy Doctor
Experts roundtable
Ask the Experts
Position drop-offs
Draft board
Auction price list
Training-camp reports
We identify veterans and rookies to watch, and name each team's strongest and weakest positions.
Humanitarian of the Year
Titans LB Keith Bulluck overcame a tough childhood, which he uses as motivation to do good deeds.
All-America checklist
Nolan Nawrocki names the college players to keep an eye on this season.
Columnists
Jerry Magee
Barry Jackson
Departments

The Way We Hear It
Canadian Football League
Audibles
NFL transactions
First-rounders' signing chart
PFW Slant with Dan Arkush
PFW Online
PFW Online is the electronic version of our Pro Football Weekly print newsmagazine.
We publish 30 issues throughout the year, weekly during the season and monthly during the offseason, and these issues are made available to PFW Online members in PDF format.
Since our electronic edition is always available by 7 p.m. ET on the day that it's published, it's your fastest way to get an issue of Pro Football Weekly.
You'll have access to everything in our print edition in the same familiar look and feel, plus a fully-searchable and easy way to enjoy it.