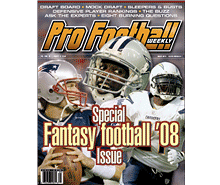 PFW Online: Vol. 23, Issue 07
Published: 2008-08-04
Cover Date: August 17, 2008
This is the second fantasy football issue of the season.
Fantasy football section
The Buzz
IDP player reports
Draft board
Sleepers and busts
Column: Michael Blunda
Eight burning questions
Q&A with the Fantasy Doctor
Mock draft
Ask the Experts
Mario Williams and Amobi Okoye give the Texans' D-line a 1-2 punch that could knock out opponents.
Marvin Lewis. Ken Whisenhunt. Eric Mangini. Ozzie Newsome. Scott Pioli. Phil Savage. The coaching staff and front office of the 1996-97 Baltimore Ravens were loaded with future NFL big shots.
Columnists
Mike Wilkening
Jerry Magee
Ron Borges
The Way We Hear It
First-rounders' signing chart
Arena Football League
Canadian Football League
Audibles
NFL transactions
PFW Slant with Dan Arkush
PFW Online
PFW Online is the electronic version of our Pro Football Weekly print newsmagazine.
We publish 30 issues throughout the year, weekly during the season and monthly during the offseason, and these issues are made available to PFW Online members in PDF format.
Since our electronic edition is always available by 7 p.m. ET on the day that it's published, it's your fastest way to get an issue of Pro Football Weekly.
You'll have access to everything in our print edition in the same familiar look and feel, plus a fully-searchable and easy way to enjoy it.