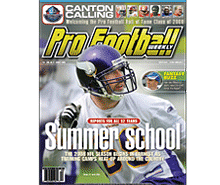 PFW Online: Vol. 23, Issue 06
Published: 2008-07-21
Cover Date: August 2008
This is the first installment of training-camp reports for this season.
As the 2008 NFL season officially gets under way with the opening of training camps, we take a tour around the league to bring you each team's juiciest story line, biggest questions and most important battle to watch.
Giants, Patriots ... revisited
They were the last two teams left standing in the 2007 season. We poke around each club to see if they have what it takes to return as conference champs in '08.
The NFL's path to immortality
Once your bronze bust is unveiled in Canton, you are destined to forever be remembered as an NFL great. We profile the Pro Football Hall of Fame class of 2008.
Fantasy football
Get the latest and the greatest news, scoops and rumors in this issue's edition of the Fantasy Buzz.
Columnists
Matt Sohn
Jerry Magee
Barry Jackson
Bob Carroll
Departments
The Way We Hear It
Training-camp sites, reporting dates
Power rankings
Fantasy football draft board
Arena Bowl preview
Canadian Football League
Audibles
NFL preseason schedule
First-rounders' signing chart
NFL transactions
PFW Slant with Dan Arkush
PFW Online
PFW Online is the electronic version of our Pro Football Weekly print newsmagazine.
We publish 30 issues throughout the year, weekly during the season and monthly during the offseason, and these issues are made available to PFW Online members in PDF format.
Since our electronic edition is always available by 7 p.m. ET on the day that it's published, it's your fastest way to get an issue of Pro Football Weekly.
You'll have access to everything in our print edition in the same familiar look and feel, plus a fully-searchable and easy way to enjoy it.