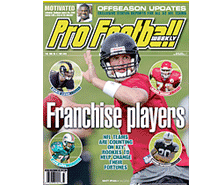 PFW Online: Vol. 23, Issue 04
Published: 2008-06-02
Cover Date: July 2008
This is the offseason team reports issue.
The two NFL franchises in Missouri — the Rams and Chiefs — landed defensive cornerstones in April's draft. St. Louis chose Chris Long, and Kansas City added Glenn Dorsey. Both D-linemen are being counted on to provide an immediate boost to these downtrodden teams.
LaDainian Tomlinson

The Chargers' star runner enters the 2008 season eager to silence the critics who questioned his injury and effort in the AFC championship game.
Matt Ryan and Joe Flacco are the two first-year quarterbacks most likely to earn starting jobs in 2008.
Offseason updates

We take a tour around the NFL to see what each team accomplished in the spring, and what still needs to be done.
Columnists
Eric Edholm
Jerry Magee
Barry Jackson
Departments
The Way We Hear It
Free-agency update
Feature: The looming labor crisis
Fantasy football: Major story lines of 2008
Difference of opinion: Should the NFL have a personal conduct policy?
Audibles
Arena Football League
Canadian Football League season preview
NFL transactions
The Slant with Dan Arkush
PFW Online
PFW Online is the electronic version of our Pro Football Weekly print newsmagazine.
We publish 30 issues throughout the year, weekly during the season and monthly during the offseason, and these issues are made available to PFW Online members in PDF format.
Since our electronic edition is always available by 7 p.m. ET on the day that it's published, it's your fastest way to get an issue of Pro Football Weekly.
You'll have access to everything in our print edition in the same familiar look and feel, plus a fully-searchable and easy way to enjoy it.