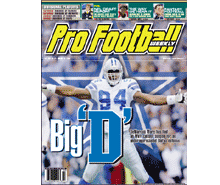 PFW Online: Vol. 22, Issue 27
Published: 2008-01-07
Cover Date: January 13, 2008
This is the issue for divisional playoff previews and wild-card game coverage.
Defensive stud in Dallas
Most of the national headlines regarding the Cowboys go to Tony Romo or Terrell Owens or Marion Barber — all offensive players. But DeMarcus Ware is on the verge of becoming a household name after a stellar 2007 season.
Playoff previews
We break down all the divisional-round playoff action in our game previews, which include updated depth charts.
Fantasy football draft board
Get a jump start on the 2008 fantasy football season by checking out an exclusive sneak peek of our player rankings.
Five-year draft evaluations
Which teams have been the best at identifying pro talent from the college ranks? We examined the past five NFL drafts in an attempt to get the answer, and then explore how the drafts have impacted each team's success in the standings.
Columnists
Jerry Magee
Bill Wallace
Reggie Rivers
Barry Jackson
The Way We Hear It
Handicapper's Corner
Wild-card game coverage
Game-day reviews
Individual statistics
NFL team statistics
NFL team rankings
Audibles
NFL transactions
NFL draft order
PFW Slant with Dan Arkush
PFW Online
PFW Online is the electronic version of our Pro Football Weekly print newsmagazine.
We publish 30 issues throughout the year, weekly during the season and monthly during the offseason, and these issues are made available to PFW Online members in PDF format.
Since our electronic edition is always available by 7 p.m. ET on the day that it's published, it's your fastest way to get an issue of Pro Football Weekly.
You'll have access to everything in our print edition in the same familiar look and feel, plus a fully-searchable and easy way to enjoy it.