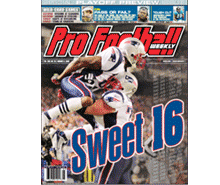 PFW Online: Vol. 22, Issue 26
Published: 2007-12-31
Cover Date: January 6, 2008
This is the issue for wild-card previews and Week 17 game coverage.
The NFL's second season
The list of pro football teams still alive has been whittled from 32 to 12. We release our postseason power rankings and preview all the action, highlighting offensive and defensive keys and a player to watch for each playoff team.
Evaluating the coaches
In this annual PFW feature, we analyze the jobs turned in by each of the 32 NFL head coaches. How did your team's leader fare this season? Read on.
Steel City son in Green Bay
Mike McCarthy has taken his blue-collar, Pittsburgh background and successfully used it in his job as the head coach of the Packers.
The Slant
Dan Arkush offers his thoughts on the playoffs, believing the Jaguars are a team to keep an eye on as a potential sleeper.
Columnists
Jerry Magee
Ron Borges
Jim Campbell
The Way We Hear It
Feature: A big year for Browns head coach Romeo Crennel
Handicapper's Corner
Wild-card previews: Redskins at Seahawks | Jaguars at Steelers | Giants at Buccaneers | Titans at Chargers
Fantasy statistics
Week 17 game coverage: NFL standings; Game-day review; Players of the Week; Power rankings; Teams on the rise and decline
Week 17 game statistics
Individual statistics
NFL team statistics
NFL team rankings
NFList: Ranking the special-teams units of the division winners
Audibles
NFL draft order
NFL transactions
PFW Online
PFW Online is the electronic version of our Pro Football Weekly print newsmagazine.
We publish 30 issues throughout the year, weekly during the season and monthly during the offseason, and these issues are made available to PFW Online members in PDF format.
Since our electronic edition is always available by 7 p.m. ET on the day that it's published, it's your fastest way to get an issue of Pro Football Weekly.
You'll have access to everything in our print edition in the same familiar look and feel, plus a fully-searchable and easy way to enjoy it.