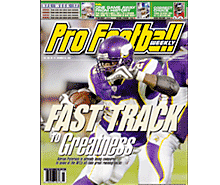 PFW Online: Vol. 22, Issue 25
Published: 2007-12-24
Cover Date: December 30, 2007
This is the issue for Week 17 previews and Week 16 game coverage.
Adrian Peterson
After a celebrated collegiate career at Oklahoma, the Vikings' rookie runner has taken the league by storm. As his debut campaign nears an end, some teammates believe Peterson has what it takes to become the best running back the NFL has ever seen.
Many questioned the Texans' decision to draft Mario Williams first overall last year. But the young defender's improving play this season has silenced Houston's critics.
The quest for perfection
The Patriots face the Giants in a Saturday-night special that not only has playoff implications but will determine if the NFL sees its first-ever 16-0 regular-season team.
Fantasy football
If you compete in a weekly salary-cap league, this must-read can help put you over the top in the final week of fantasy competition.
Columnists
Matt Sohn
Jerry Magee
Glenn Dickey
Barry Jackson
The Way We Hear It
Handicapper's Corner
Week 17 game previews
Scout's Notebook: Packers DT Corey Williams
Week 16 game coverage: NFL standings; Game-day review; Players of the Week; Power rankings; Teams on the rise and decline
Week 16 game statistics
Fantasy statistics
Pro Bowl rosters
Individual statistics
NFL team statistics
NFL team rankings
NFList: Which coaches left the biggest mess in their wake when leaving to return to the college ranks?
Audibles
NFL transactions
PFW Slant with Dan Arkush
PFW Online
PFW Online is the electronic version of our Pro Football Weekly print newsmagazine.
We publish 30 issues throughout the year, weekly during the season and monthly during the offseason, and these issues are made available to PFW Online members in PDF format.
Since our electronic edition is always available by 7 p.m. ET on the day that it's published, it's your fastest way to get an issue of Pro Football Weekly.
You'll have access to everything in our print edition in the same familiar look and feel, plus a fully-searchable and easy way to enjoy it.