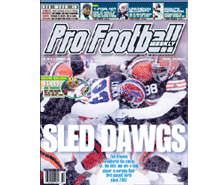 PFW Online: Vol. 22, Issue 24
Published: 2007-12-17
Cover Date: December 23, 2007
This is the issue for Week 16 previews and Week 15 game coverage.
Where are Bolts headed?
After a troubling start to the season, there was reason to doubt whether a Norv Turner-Philip Rivers combo could get it done in San Diego. They righted the ship, but can they get the Chargers to elite-team status?
Disastrous year for Dolphins
We chronicle all the things that have gone wrong for the Dolphins during this horribly disappointing season in South Florida, and look ahead to what could be next.
It's crunch time in fantasy leagues around the nation. Now is when you need all the help you can get. Check out the best news and analysis in the Buzz.
Dan Arkush offers up his suggested Christmas gifts to members of each NFL team in this annual PFW Slant tradition.
Columnists
Eric Edholm
Jerry Magee
Ron Borges
Don Pierson
The Way We Hear It
Handicapper's Corner
Week 16 game previews
Scout's Notebook: Jaguars QB David Garrard
Week 15 game coverage: NFL standings; Game-day review; Players of the Week; Power rankings; Teams on the rise and decline
Week 15 game statistics
Fantasy statistics
Ask the Experts: Who should be the top fantasy pick in 2008?
Individual statistics
NFL team statistics
NFL team rankings
NFList: Which rookies have turned heads this season?
Audibles
NFL transactions
PFW Online
PFW Online is the electronic version of our Pro Football Weekly print newsmagazine.
We publish 30 issues throughout the year, weekly during the season and monthly during the offseason, and these issues are made available to PFW Online members in PDF format.
Since our electronic edition is always available by 7 p.m. ET on the day that it's published, it's your fastest way to get an issue of Pro Football Weekly.
You'll have access to everything in our print edition in the same familiar look and feel, plus a fully-searchable and easy way to enjoy it.