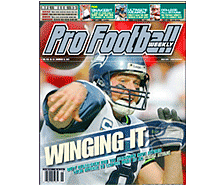 PFW Online: Vol. 22, Issue 23
Published: 2007-12-10
Cover Date: December 16, 2007
This is the issue for Week 15 previews and Week 14 game coverage.
Seahawks "O" taking flight
After the running game failed to live up to expectations in the first half of the season, Seattle coaches decided to put more emphasis on the passing game — and it's paying off, as the Seahawks soar toward the postseason.
Injuries are as much a part of the NFL landscape as helmets and shoulder pads. It has been a particularly painful season, and we take a team-by-team look at which clubs have been hit hardest.
Undersized and underrated
Brian Westbrook may be small, but he's the single-most important member of the Eagles' offense — and the rest of the league is finally taking notice of his production.
All-America honors squad
The best college football talent of 2007 receives recognition in PFW's annual All-America team.
Columnists
Jerry Magee
Barry Jackson
Reggie Rivers
Bob Carroll
The Way We Hear It

NFList: Best NFL quarterbacks at throwing on the run

Handicapper's Corner

Week 15 game previews

Scout's Notebook: Seahawks FB Leonard Weaver

Fantasy Buzz

Pro prospects series: Top college defensive backs

Week 14 game coverage: NFL standings; Game-day review; Players of the Week; Power rankings; Teams on the rise and decline

Week 14 game statistics

Fantasy statistics

Individual statistics

NFL team statistics

NFL team rankings

Audibles

NFL transactions

The Slant with Dan Arkush
PFW Online
PFW Online is the electronic version of our Pro Football Weekly print newsmagazine.
We publish 30 issues throughout the year, weekly during the season and monthly during the offseason, and these issues are made available to PFW Online members in PDF format.
Since our electronic edition is always available by 7 p.m. ET on the day that it's published, it's your fastest way to get an issue of Pro Football Weekly.
You'll have access to everything in our print edition in the same familiar look and feel, plus a fully-searchable and easy way to enjoy it.