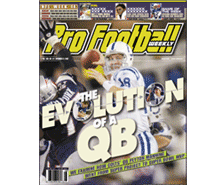 PFW Online: Vol. 22, Issue 22
Published: 2007-12-03
Cover Date: December 9, 2007
This is the issue for Week 14 previews and Week 13 game coverage.
The evolution of a quarterback
Peyton Manning has come a long way in his 10 years in the NFL. Formerly the passer who could not win the big game, you may now refer to him as a Super Bowl champion. We profile one of the game's greats.
PFW's Matt Sohn travels to the heart of Packers country, Burlington, Wis., to experience the place where Cowboys QB Tony Romo first showed signs of becoming a star athlete.
Steelers are 'O'-pening it up
Spurred by QB Ben Roethlisberger's growth as a passer and a more aggressive offense, the Steelers are breaking tradition and attacking downfield through the air.
PFW draft analyst Nolan Nawrocki analyzes the top linebackers leaving college for the NFL in his continuing pro prospects series.
Columnists
Jerry Magee
Ron Borges
Departments
The Way We Hear It
Handicapper's Corner
Week 14 game previews
Scout's Notebook: Bills OLT Jason Peters
Week 13 game coverage: NFL standings; Game-day review; Players of the Week; Power rankings; Teams on the rise and decline
Week 13 game statistics
Fantasy Buzz
Fantasy statistics
Individual statistics
NFL team statistics
NFL team rankings
NFList: Top cornerbacks best at baiting quarterbacks
Audibles
NFL transactions
The Slant with Dan Arkush
PFW Online
PFW Online is the electronic version of our Pro Football Weekly print newsmagazine.
We publish 30 issues throughout the year, weekly during the season and monthly during the offseason, and these issues are made available to PFW Online members in PDF format.
Since our electronic edition is always available by 7 p.m. ET on the day that it's published, it's your fastest way to get an issue of Pro Football Weekly.
You'll have access to everything in our print edition in the same familiar look and feel, plus a fully-searchable and easy way to enjoy it.