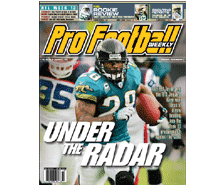 PFW Online: Vol. 22, Issue 21
Published: 2007-11-26
Cover Date: December 2, 2007
This is the issue for Week 13 previews and Week 12 game coverage.
Instant gratification
With two-thirds of the season in the books, we've had enough time to digest the performances of members of the rookie class of 2007. PFW takes a tour around the league and identifies each team's top first-year player.
Game of the Week
Brett Favre and the Packers travel to Dallas for a very important Thursday-night game that will help determine home-field advantage in the NFC playoffs.
Fantasy football help is here!
As the fantasy playoffs near, it's time to tune up your roster for the stretch run. The Fantasy Buzz has the news, analysis and tips to help you field a winner.
Scouting the D-linemen
PFW draft analyst Nolan Nawrocki breaks down the top defensive linemen leaving the college ranks for the NFL in his continuing pro prospects series.
Columnists
Jerry Magee
Glenn Dickey
Barry Jackson
Departments
The Way We Hear It
Ask the Experts: What sub-.500 team will contend?
Handicapper's Corner
Week 13 game previews
Scout's Notebook: Steelers OLB James Harrison
Fantasy statistics
Key college game: Missouri vs. Oklahoma
Week 12 game coverage: NFL standings; Game-day review; Players of the Week; Power rankings; Teams on the rise and decline
Week 12 game statistics
Individual statistcs
NFL team statistics
NFL team rankings
NFList: Coaching staffs doing the most with the least
Audibles
Canadian Football League
NFL transactions
The Slant with Dan Arkush
PFW Online
PFW Online is the electronic version of our Pro Football Weekly print newsmagazine.
We publish 30 issues throughout the year, weekly during the season and monthly during the offseason, and these issues are made available to PFW Online members in PDF format.
Since our electronic edition is always available by 7 p.m. ET on the day that it's published, it's your fastest way to get an issue of Pro Football Weekly.
You'll have access to everything in our print edition in the same familiar look and feel, plus a fully-searchable and easy way to enjoy it.