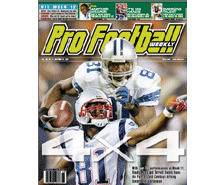 PFW Online: Vol. 22, Issue 20
Published: 2007-11-19
Cover Date: November 25, 2007
This is the issue for Week 12 previews and Week 11 game coverage.
Indy's latest RB weapon
The Colts have featured a long line of productive running backs in their history. In his second season in the NFL, a young runner named Joseph Addai is living up to the tradition and providing Indy with another offensive threat.
Despite some inconsistency at the QB position and a lack of a true No. 2 receiving threat to complement him, WR Lee Evans is emerging as a star in Buffalo.
Making the most of his chance
Barrett Ruud spent his first two years in the NFL as a backup. Now a starter, the up-and-coming LB is making teammates and opponents alike take notice.
Terrell Owens: TD machine
T.O. scored four touchdowns in Week 11, as the Cowboys defeated the Redskins and moved to 9-1 on the season.
Columnists
Dann Parr
Don Pierson
Jerry Magee
Ron Borges
Departments
The Way We Hear It
Handicapper's Corner
Week 12 game previews
Scout's Notebook: Buccaneers S Jermaine Phillips
Fantasy Buzz
Pro prospects series: Top college offensive linemen
Key college game: Virginia Tech vs.Virginia
Week 11 game coverage: NFL standings; Game-day review; Players of the Week; Power rankings; Teams on the rise and decline
Week 11 game statistics
Fantasy statistics
Individual statistics
NFL team statistics
NFL team rankings
NFList: Worst free-agent signings ever
Audibles
Canadian Football League
NFL transactions
The Slant with Dan Arkush
PFW Online
PFW Online is the electronic version of our Pro Football Weekly print newsmagazine.
We publish 30 issues throughout the year, weekly during the season and monthly during the offseason, and these issues are made available to PFW Online members in PDF format.
Since our electronic edition is always available by 7 p.m. ET on the day that it's published, it's your fastest way to get an issue of Pro Football Weekly.
You'll have access to everything in our print edition in the same familiar look and feel, plus a fully-searchable and easy way to enjoy it.