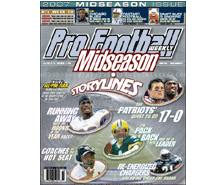 PFW Online: Vol. 22, Issue 18
Published: 2007-11-05
Cover Date: November 11, 2007
This is the Mid-season Awards issue with Week 10 previews and Week Nine game coverage.
Midseason All-Pro team
With the first half of the season in the books, we announce our annual midseason all-star team. It's a little heavy on youth this year, with three rookies performing like All-Pros in their debut seasons.
We highlight the biggest surprises and disappointments for all 32 teams so far in the 2007 season. We also make predictions for the second half and name team MVPs.
Scouting the WR prospects
In his continuing series that takes an early look at the 2008 NFL draft, Nolan Nawrocki breaks down the upcoming class of pass catchers.
Dan Arkush points out the top games to watch in the second half of the season and examines which head coaches are feeling the heat of the hot seat.
Columnists
Jerry Magee
Jim Campbell
Mike Wilkening
Ron Borges
Departments
The Way We Hear It
Feature: Midseason overview
Canadian Football League
NFL transactions
Handicapper's Corner
Week 10 game previews
Scout's Notebook: Browns CB Leigh Bodden
Fantasy Buzz
Fantasy statistics
Key college game: Kansas at Oklahoma State
Week Nine game coverage: NFL standings; Game-day review; Players of the Week; Power rankings; Teams on the rise and decline
Week Nine game statistics
Individual statistics
NFL team statistics
NFL team rankings
NFList: Most improved players
Audibles
PFW Online
PFW Online is the electronic version of our Pro Football Weekly print newsmagazine.
We publish 30 issues throughout the year, weekly during the season and monthly during the offseason, and these issues are made available to PFW Online members in PDF format.
Since our electronic edition is always available by 7 p.m. ET on the day that it's published, it's your fastest way to get an issue of Pro Football Weekly.
You'll have access to everything in our print edition in the same familiar look and feel, plus a fully-searchable and easy way to enjoy it.