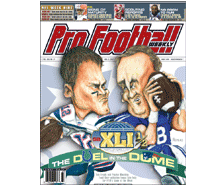 PFW Online: Vol. 22, Issue 17
Published: 2007-10-29
Cover Date: November 4, 2007
This is the issue for Week Nine previews and Week Eight game coverage.
K-II coming on
It's taken longer than originally expected, but Browns TE Kellen Winslow is starting to live up to the hype. After disappointing coaches and fans with boneheaded moves and injuries, Winslow appears to have grown up a bit, and it is showing in his play on the field.
It's been the most anticipated regular-season game of the year. Two undefeated heavyweights — the Colts and Patriots — will do battle in Indy. We break it down.
Bet the house
How are sportsbooks handling the Patriots, who have dominated against the spread thus far this year? We asked several in-the-know oddsmakers, and also post early lines for the rest of New England's schedule.
A year after they struggled to stop anyone, we analyze what's been behind the Titans' major improvement on defense.
Jerry Magee
Eric Edholm
Barry Jackson
Glenn Dickey
Departments
The Way We Hear It
Handicapper's Corner
Week Nine game previews
Scout's Notebook: Raiders LB Kirk Morrison
Pro prospects series: Top college running backs
Key college game: Ohio State vs. Wisconsin
Fantasy Buzz
Fantasy football statistics
Week Eight game coverage: NFL standings; Game-day review; Players of the Week; Power rankings; Teams on the rise and decline
Week Eight game statistics
Individual statistics
NFL team statistics
NFL team rankings
NFList: "X" factors for Patriots-Colts game
Audibles
Canadian Football League
NFL transactions
The Slant with Dan Arkush
PFW Online
PFW Online is the electronic version of our Pro Football Weekly print newsmagazine.
We publish 30 issues throughout the year, weekly during the season and monthly during the offseason, and these issues are made available to PFW Online members in PDF format.
Since our electronic edition is always available by 7 p.m. ET on the day that it's published, it's your fastest way to get an issue of Pro Football Weekly.
You'll have access to everything in our print edition in the same familiar look and feel, plus a fully-searchable and easy way to enjoy it.