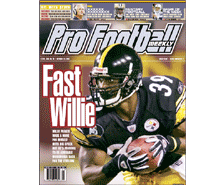 PFW Online: Vol. 22, Issue 15
Published: 2007-10-15
Cover Date: October 21, 2007
This is the issue for Week Seven previews and Week Six game coverage.
A workhorse built for speed

A workhorse built for speed Willie Parker's known for being able to hit top speed quickly, but he's also proving to be capable of carrying the heavy rushing load for the Steelers' offense.
Easygoing Phillips good fit in Dallas
The Cowboys' great start has people thinking about the Super Bowl, but the team and first-year head coach Wade Phillips must first overcome their poor playoff track records.
Is Illinois ready for Wolverines?
Nolan Nawrocki tells you which players the NFL scouts will be watching when Michigan visits surprising Illinois in a key Big Ten battle.
Fantasy news you can use
Check the Fantasy Buzz before filling out your Week Seven lineup as we tell you which players are hot and which are not.
Columnists
Jerry Magee
Barry Jackson
Reggie Rivers
Departments
The Way We Hear It
Handicapper's corner
Week Seven game previews
Scout's Notebook: Saints WR Devery Henderson
Fantasy football statistics
Canadian Football League
Week Six game coverage: NFL standings; Game-day review; Players of the Week; Power rankings; Teams on the rise and decline
Week Six game statistics
Individual statistics
NFL team statistics
NFL team rankings
NFList: Top five kick returners
Audibles
NFL transactions
The Slant with Dan Arkush
PFW Online
PFW Online is the electronic version of our Pro Football Weekly print newsmagazine.
We publish 30 issues throughout the year, weekly during the season and monthly during the offseason, and these issues are made available to PFW Online members in PDF format.
Since our electronic edition is always available by 7 p.m. ET on the day that it's published, it's your fastest way to get an issue of Pro Football Weekly.
You'll have access to everything in our print edition in the same familiar look and feel, plus a fully-searchable and easy way to enjoy it.