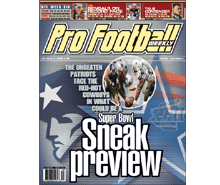 PFW Online: Vol. 22, Issue 14
Published: 2007-10-08
Cover Date: October 14, 2007
This is the issue for Week Six previews and Week Five game coverage.
Game of the Week
It's only mid-October, but this week's key matchup could be a preview of February's Super Bowl XLII. The Patriots visit the Cowboys in the season's most anticipated contest to date.
Rice, Harrison marks threatened
Cincinnati's Chad Johnson and T.J. Houshmandzadeh are on pace to break single-season receiving records currently held by Jerry Rice (yards) and Marvin Harrison (catches).
Are the Packers the real deal?
Green Bay has gotten off to a great start, which has some league watchers wondering if Brett Favre's team could be contending for another NFL title in '07.
Fantasy news you can use
Before filling out your Week Six roster, be sure to read this week's installment of "The Buzz," with insightful analysis of fantasy trends.
Columnists
Jerry Magee
Matt Sohn
Ron Borges
Bob Carroll
Departments
The Way We Hear It
Key college game and notes
Handicapper's Corner
Week Six game previews
Scout's Notebook: Cowboys C Andre Gurode
Fantasy football statistics
Canadian Football League
Week Five game coverage: NFL standings; Game-day review; Players of the Week; Power rankings; Teams on the rise and decline
Week Five game statistics
Individual statistics
NFL team statistics
NFL team rankings
NFList: Effective screen-pass teams
Audibles
NFL transactions
The Slant with Dan Arkush
PFW Online
PFW Online is the electronic version of our Pro Football Weekly print newsmagazine.
We publish 30 issues throughout the year, weekly during the season and monthly during the offseason, and these issues are made available to PFW Online members in PDF format.
Since our electronic edition is always available by 7 p.m. ET on the day that it's published, it's your fastest way to get an issue of Pro Football Weekly.
You'll have access to everything in our print edition in the same familiar look and feel, plus a fully-searchable and easy way to enjoy it.