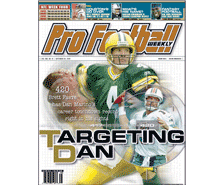 PFW Online: Vol. 22, Issue 12
Published: 2007-09-24
Cover Date: September 30, 2007
This is the issue for Week Four previews and Week Three game coverage.
Which Favre record is tops?
Brett Favre is on the verge of passing Dan Marino to become the NFL's alltime passing touchdown leader. But is that mark more significant than his consecutive-starts streak or becoming the NFL's winningest starting QB?
The best corner no one knows
Nnamdi Asomugha is creating a reputation as one of the NFL's top pass defenders. Get to know the league's best cornerback that people know little about.
Right deal at the right time
The Texans knew they had to make a change at quarterback and traded for Matt Schaub in April. To date, Houston couldn't be more pleased.
An eye toward the NFL draft
Nolan Nawrocki previews this week's Cal-Oregon matchup, looking ahead to which players might interest pro scouts.
Columnists
Jerry Magee
Ron Borges
Don Pierson
Departments
The Way We Hear It
Handicapper's Corner
Week Four game previews and depth charts
Scout's Notebook: Bills S Jim Leonhard
Fantasy Buzz
College notes
Week Three game coverage: NFL standings; Game-day review; Players of the Week; Power rankings; Teams on the rise and decline
Week Three game statistics
Individual statistics
NFL team statistics
NFL team rankings
NFList: Craftiest pass rushers
Audibles
Canadian Football League
NFL transactions
The Slant with Dan Arkush
PFW Online
PFW Online is the electronic version of our Pro Football Weekly print newsmagazine.
We publish 30 issues throughout the year, weekly during the season and monthly during the offseason, and these issues are made available to PFW Online members in PDF format.
Since our electronic edition is always available by 7 p.m. ET on the day that it's published, it's your fastest way to get an issue of Pro Football Weekly.
You'll have access to everything in our print edition in the same familiar look and feel, plus a fully-searchable and easy way to enjoy it.