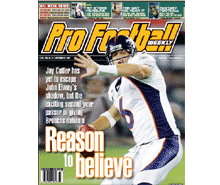 PFW Online: Vol. 22, Issue 11
Published: 2007-09-17
Cover Date: Septemkber 23, 2007
This is the issue for Week Three previews and Week Two game coverage.
New face of the franchise
Brian Griese tried and failed. So did Jake Plummer. Now it is Jay Cutler's turn to try to emerge from the shadow of Pro Football Hall of Fame passer and Denver icon John Elway. And Cutler has the Mile High City abuzz.
It was 20 years ago today …
Looking back at the NFL players' strike of 1987, including memories from a handful of the replacement players. Also: A report on the current state of league-union relations.
Scout's Notebook
Get to know the Vikings DE Ray Edwards, a 2006 fourth-round draft pick who will be a major player in Minnesota's pass rush this season.
With two weeks of NFL action in the books, now is the time to make the moves to improve your fantasy roster. We offer help.
Columnists
Jerry Magee
Bill Wallace
Barry Jackson
Reggie Rivers
Departments
The Way We Hear It
Handicapper's Corner
Week Three game previews and depth charts
Ask the Experts
Key college game: Georgia vs. Alabama
College notes
Week Two game coverage: NFL standings; Game-day review; Players of the Week; Power rankings; Teams on the rise and decline
Week Two game statistics
Individual statistics
NFL team statistics
NFL team rankings
NFList: Best pass-blocking running backs
Audibles
Canadian Football League
NFL transactions
The Slant with Dan Arkush
PFW Online
PFW Online is the electronic version of our Pro Football Weekly print newsmagazine.
We publish 30 issues throughout the year, weekly during the season and monthly during the offseason, and these issues are made available to PFW Online members in PDF format.
Since our electronic edition is always available by 7 p.m. ET on the day that it's published, it's your fastest way to get an issue of Pro Football Weekly.
You'll have access to everything in our print edition in the same familiar look and feel, plus a fully-searchable and easy way to enjoy it.