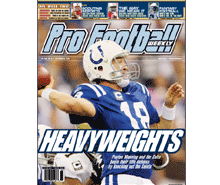 PFW Online: Vol. 22, Issue 10
Published: 2007-09-10
Cover Date: September 16, 2007
This is the issue for Week Two previews and Week One game coverage.
In defense of a Super Bowl title
Peyton Manning finally won the "big" one last year. But with a new season under way, the Colts and their star quarterback have put 2006 behind them as they attempt the always-difficult championship repeat.
Winning fantasy advice
Get essential news, analysis and advice that can help turn your roster into a winner, available only in Pro Football Weekly's Fantasy Buzz.
Battle of the college QBs
The intrastate rivalry game between Louisville and Kentucky will feature a pair of prized passing prospects in Brian Brohm and Andre' Woodson. Get a preview in our Key College Game.
Dan Arkush offers his thoughts on the disappointing Jaguars and Tiki Barber's ill-timed criticism of his former team in his column.
Columnists
Eric Edholm
Jerry Magee
Jim Campbell
Ron Borges
Departments
The Way We Hear It
Handicapper's Corner
Week Two game previews and depth charts
Scout's Notebook: Colts RB Joseph Addai
Rosters for all 32 NFL teams
Week One game coverage: NFL standings; Game-day review; Players of the Week; Power rankings; Teams on the rise and decline
Week One game statistics
NFL team statistics
NFL team rankings
Individual statistics
NFList: 2007 breakout players
Audibles
Canadian Football League
NFL transactions
PFW Online
PFW Online is the electronic version of our Pro Football Weekly print newsmagazine.
We publish 30 issues throughout the year, weekly during the season and monthly during the offseason, and these issues are made available to PFW Online members in PDF format.
Since our electronic edition is always available by 7 p.m. ET on the day that it's published, it's your fastest way to get an issue of Pro Football Weekly.
You'll have access to everything in our print edition in the same familiar look and feel, plus a fully-searchable and easy way to enjoy it.