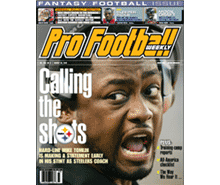 PFW Online: Vol. 22, Issue 08
Published: 2007-08-20
Cover Date: August 26, 2007
This is the third fantasy football issue of the season and the third installment of training-camp reports.
The Buzz
Mock draft
Draft board
Experts roundtable
Ask the Fantasy Doctor
Auction price list
Top sleeper picks
Training-camp reports
We provide progress reports for all NFL teams as they sweat their way through sizzling summer workouts.
All-America checklist
Here are the names of college players whom NFL scouts will be talking about come spring.
New head coaches
Mike Tomlin is among a group of new sideline bosses in seven NFL cities.
Columnists
Jerry Magee
Don Pierson
Barry Jackson
Reggie Rivers
Departments
The Way We Hear It
Audibles
Preseason schedule and results
CFL
NFL transactions
2006 and 2007 first-rounders' signing charts
PFW Slant with Dan Arkush
PFW Online
PFW Online is the electronic version of our Pro Football Weekly print newsmagazine.
We publish 30 issues throughout the year, weekly during the season and monthly during the offseason, and these issues are made available to PFW Online members in PDF format.
Since our electronic edition is always available by 7 p.m. ET on the day that it's published, it's your fastest way to get an issue of Pro Football Weekly.
You'll have access to everything in our print edition in the same familiar look and feel, plus a fully-searchable and easy way to enjoy it.