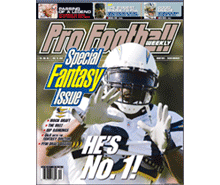 PFW Online: Vol. 22, Issue 07
Published: 2007-08-06
Cover Date: August 19, 2007
This is the second fantasy football issue of the season and the second installment of training-camp reports.
Fantasy football section
The Buzz
IDP rankings
Trent Modglin column
Ask the Fantasy Doctor
Draft board
Eight burning questions
Mock draft
Using target, utilization data
Big shoes to fill
We count down the most significant personnel losses of the offseason and focus on how teams are adapting.
Humanitarian Award
Drew Brees has brought a lot of happiness to New Orleans — on and off the field.
The Slant
Remembering a true lateblooming football genius — the late Bill Walsh.
Columnists
Jerry Magee
Bill Wallace
Glenn Dickey
Ron Borges
Departments
The Way We Hear It
Arena football
CFL
2006 and 2007 first-rounders' signing charts
Audibles
NFL transactions
PFW Online
PFW Online is the electronic version of our Pro Football Weekly print newsmagazine.
We publish 30 issues throughout the year, weekly during the season and monthly during the offseason, and these issues are made available to PFW Online members in PDF format.
Since our electronic edition is always available by 7 p.m. ET on the day that it's published, it's your fastest way to get an issue of Pro Football Weekly.
You'll have access to everything in our print edition in the same familiar look and feel, plus a fully-searchable and easy way to enjoy it.