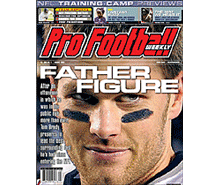 PFW Online: Vol. 22, Issue 06
Published: 2007-07-23
Cover Date: August 2007
This is the first installment of training-camp reports for this season.
Training-camp reports
Get ready for the opening of the NFL's summer workouts with a primer on each team. We offer up key issues for all 32 clubs, plus some predictions and our first glimpse of PFW's preseason power rankings.
Patriot gains
Tom Brady has had an interesting offseason, to say the least. Now he's ready to lead the best group of talent he's had since entering the NFL.
Executive editor Dan Arkush hears that there is a movement afoot among NFL scouts to form a union.
Columnists
Chris Neubauer
Jerry Magee
Barry Jackson
Bob Carroll
Departments
The Way We Hear It
Feature: Profiles of the 2007 Hall of Fame inductees
The Fantasy Buzz
Fantasy draft board
Arena Football
Canadian Football League
Audibles
2006 and 2007 first-rounders' signing charts
NFL transactions
PFW Online
PFW Online is the electronic version of our Pro Football Weekly print newsmagazine.
We publish 30 issues throughout the year, weekly during the season and monthly during the offseason, and these issues are made available to PFW Online members in PDF format.
Since our electronic edition is always available by 7 p.m. ET on the day that it's published, it's your fastest way to get an issue of Pro Football Weekly.
You'll have access to everything in our print edition in the same familiar look and feel, plus a fully-searchable and easy way to enjoy it.