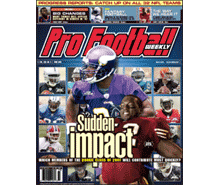 PFW Online: Vol. 22, Issue 04
Published: 2007-06-04
Cover Date: June 2007
This is the offseason team reports issue.
Impact rookies
Adrian Peterson and Patrick Willis will step into major roles with their new teams immediately. We introduce you to the first-round picks of the Vikings and 49ers, and identify one key rookie contributor from the other 30 teams. Also, we take you behind the scenes at the NFL Players Rookie Premiere.
An offseason of change
After just missing out on the playoffs last season, the Broncos have undergone some major changes — in the areas of personnel, coaching and attitude.
Charting the progress
In our annual offseason update feature, we clue you in to what each team has accomplished, and what plans are yet to be completed.
Backfields in motion
There are various types of RB situations around the NFL. We break them down for you with an eye on fantasy football.
Columnists
Jerry Magee
Tom Danyluk
Don Pierson
Barry Jackson
Departments
The Way We Hear It
Free-agency update
Canadian Football League season preview
Audibles
NFL Europa
Arena Football League
NFL transactions
The Slant with Dan Arkush
PFW Online
PFW Online is the electronic version of our Pro Football Weekly print newsmagazine.
We publish 30 issues throughout the year, weekly during the season and monthly during the offseason, and these issues are made available to PFW Online members in PDF format.
Since our electronic edition is always available by 7 p.m. ET on the day that it's published, it's your fastest way to get an issue of Pro Football Weekly.
You'll have access to everything in our print edition in the same familiar look and feel, plus a fully-searchable and easy way to enjoy it.