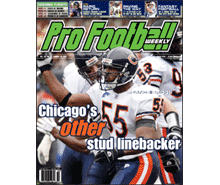 PFW Online: Vol. 21, Issue 27
Published: 2007-01-08
Cover Date: January 15, 2007
This is the issue for divisional playoff previews and wild-card game coverage.
A second star in Chicago
Brian Urlacher may get the lion's share of the attention when talk turns to the Bears' defense. But Lance Briggs, set to become a free agent after this season, has proven he's among the game's best linebackers.
Tomlinson's best friends
LaDainian Tomlinson enjoyed a record-setting campaign, scoring 31 TDs. But he'd be the first to tell you he didn't do it on his own. Meet the men who helped pave the way.
Ravens rookies
Haloti Ngata, Demetrius Williams, Dawan Landry — all first-year players on a veteran-dominated team. But each rookie has played an integral role in Baltimore's playoff run.
No easy answers
Whoever is hired to coach the Cardinals, Falcons and Raiders will have some major obstacles to overcome.
Columnists
Bill Wallace
Ron Borges
Jerry Magee
Reggie Rivers
Departments
The Way We Hear It
Handicapper's Corner
Divisional playoff game previews
Feature: Reggie Bush has proven to be a perfect fit in New Orleans
PFW's Fantasy All-Pro Team
Early 2007 fantasy draft board
Wild-card game coverage
Individual statistics
NFL team statistics
NFL team rankings
NFList:Who is the top defender of 2006?
Audibles
NFL transactions
2007 draft order
PFW Slant with Dan Arkush
PFW Online
PFW Online is the electronic version of our Pro Football Weekly print newsmagazine.
We publish 30 issues throughout the year, weekly during the season and monthly during the offseason, and these issues are made available to PFW Online members in PDF format.
Since our electronic edition is always available by 7 p.m. ET on the day that it's published, it's your fastest way to get an issue of Pro Football Weekly.
You'll have access to everything in our print edition in the same familiar look and feel, plus a fully-searchable and easy way to enjoy it.