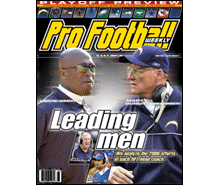 PFW Online: Vol. 21, Issue 26
Published: 2007-01-02
Cover Date: January 9, 2007
This is the issue for wild-card previews and Week 17 game coverage.
Evaluating the head coaches
With the 2006 regular season now in the books, it's time to grade the jobs turned in by each NFL head coach. We also take a closer look at Lovie Smith and Marty Schottenheimer and identify the top head-coaching candidates.
Playoff reports
We analyze where all of the postseason participants stand entering the playoffs, and offer insight into what it will take for each team to reach the Super Bowl.
Rookie of the Year?
Maurice Jones-Drew? Marques Colston? Vince Young? Devin Hester? Marcus McNeill? DeMeco Ryans? We ask the PFW editors for their opinions.
Super Bowl predictions
With the NFL title game just a month away, check out our updated picks for Super Bowl XLI, located in The Slant.
Columnists
Trent Modglin
Jerry Magee
Barry Jackson
Jim Campbell
Departments
The Way We Hear It
Handicapper's Corner
Wild-card game previews
Week 17 game coverage: NFL standings; Game-day review; Players of the Week; Power rankings; Teams on the rise and decline
Week 17 game statistics
Fantasy statistics
Individual statistics
NFL team statistics
NFL team rankings
2007 draft order
NFList: 2007's top rookies
Audibles
NFL transactions
PFW Slant with Dan Arkush
PFW Online
PFW Online is the electronic version of our Pro Football Weekly print newsmagazine.
We publish 30 issues throughout the year, weekly during the season and monthly during the offseason, and these issues are made available to PFW Online members in PDF format.
Since our electronic edition is always available by 7 p.m. ET on the day that it's published, it's your fastest way to get an issue of Pro Football Weekly.
You'll have access to everything in our print edition in the same familiar look and feel, plus a fully-searchable and easy way to enjoy it.