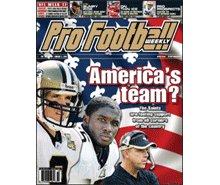 PFW Online: Vol. 21, Issue 25
Published: 2006-12-26
Cover Date: January 9, 2007
This is the issue for Week 17 previews and Week 16 game coverage.
A year after a miserable, nomadic 2005 season, the Saints have turned things completely around and appear headed for their first playoff berth since 2000. And along the way, the Saints have captured the fancy of football fans from across the nation.
Carr's career at a crossroads?
David Carr is the most recognizable face in the history of the Texans. However, after failing to live up to expectations, Houston may opt to go in another direction at QB.
A roller coaster of a defense
The Bengals have experienced highs and lows, as the play of their up-and-down defense has at times helped — and at other times hindered — their playoff hopes.
Scouting the defensive backs
Nolan Nawrocki analyzes the top cornerbacks and safeties available in next April's NFL draft.
Columnists
Eric Edholm
Jerry Magee
Glenn Dickey
Ron Borges
Departments

The Way We Hear It
Pro Bowl rosters
Handicapper's Corner
Week 17 game previews
Scout's Notebook: Falcons FB Justin Griffith
Fantasy Buzz
Fantasy statistics
Week 16 game coverage: NFL standings; Game-day review; Players of the Week; Power rankings; Teams on the rise and decline
Week 16 game statistics
Individual statistics
NFL team statistics
NFL team rankings
NFList: Pro Bowl snubs
Audibles
NFL transactions
PFW Slant with Dan Arkush
PFW Online
PFW Online is the electronic version of our Pro Football Weekly print newsmagazine.
We publish 30 issues throughout the year, weekly during the season and monthly during the offseason, and these issues are made available to PFW Online members in PDF format.
Since our electronic edition is always available by 7 p.m. ET on the day that it's published, it's your fastest way to get an issue of Pro Football Weekly.
You'll have access to everything in our print edition in the same familiar look and feel, plus a fully-searchable and easy way to enjoy it.