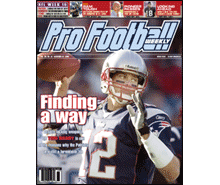 PFW Online: Vol. 21, Issue 24
Published: 2006-12-18
Cover Date: December 26, 2006
This is the issue for Week 16 previews and Week 15 game coverage.
New England forecast
How's the 2006 season going to play out in the Northeast? We present four reasons for optimism, and four for pessimism, about the Patriots' postseason chances.
Ram tough
Steven Jackson is producing at a prolific rate in St. Louis. The hard-charging runner is proving to be equally adept at both running the ball and catching it, making him the undisputed focal point of the Rams' offense.
Time to think about 2007
Just a couple of weeks are left in the 2006 regular season, and a number of teams have been ousted from the playoff race. We look ahead at what's going to happen in the offseason.
Lamar Hunt: 1932-2006
Remembering the contributions of a pro football legend and the owner of the Chiefs.
Columnists
Don Pierson
Jerry Magee
Bill Wallace
Barry Jackson
Departments

The Way We Hear It
Handicapper's Corner
Week 16 game previews
Scout's Notebook: Redskins QB Jason Campbell
Fantasy Buzz
Fantasy statistics
Pro prospects: Scouting the linebackers
Week 15 game coverage: NFL standings; Game-day review; Players of the Week; Power rankings; Teams on the rise and decline
Week 15 game statistics
Individual statistics
NFL team statistics
NFL team rankings
NFList: Executive of the Year candidates
Audibles
NFL transactions
PFW Slant with Dan Arkush
PFW Online
PFW Online is the electronic version of our Pro Football Weekly print newsmagazine.
We publish 30 issues throughout the year, weekly during the season and monthly during the offseason, and these issues are made available to PFW Online members in PDF format.
Since our electronic edition is always available by 7 p.m. ET on the day that it's published, it's your fastest way to get an issue of Pro Football Weekly.
You'll have access to everything in our print edition in the same familiar look and feel, plus a fully-searchable and easy way to enjoy it.