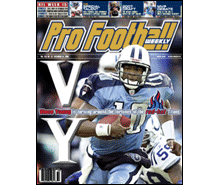 PFW Online: Vol. 21, Issue 23
Published: 2006-12-11
Cover Date: December 18, 2006
This is the issue for Week 15 previews and Week 14 game coverage.
Some players just have "it." Apparently, rookie QB Vince Young is among that crowd. As his NFL education continues, the Texas product has earned praise for his play on the field and a confident, likable personality that is earning him fans inside and outside the Titans' organization.
Many happy returns
Bears rookie Devin Hester expected to play a role when he was drafted in the second round. But no one could have forecast four special-teams touchdowns in his debut year.
Who's the MVP? Ask the experts
Three of our editors attempt to advance the case of one of three Most Valuable Player candidates. Should it be L.T., Peyton Manning or Drew Brees?
Pro prospects preview
Nolan Nawrocki continues his weekly series looking ahead to the 2007 draft with a focus on the top college defensive linemen.
Columnists
Mike Wilkening
Jerry Magee
Reggie Rivers
Ron Borges
Departments

The Way We Hear It
Handicapper's Corner
Week 15 game previews
Scout's Notebook: Patriots C Dan Koppen
Fantasy Buzz
Fantasy statistics
Nolan Nawrocki's 2006 All-America team
Week 14 game coverage: NFL standings; Game-day review; Players of the Week; Power rankings; Teams on the rise and decline
Week 14 game statistics
Individual statistics
NFL team statistics
NFL team rankings
NFList: Most competitive players
Audibles
NFL transactions
PFW Slant with Dan Arkush
PFW Online
PFW Online is the electronic version of our Pro Football Weekly print newsmagazine.
We publish 30 issues throughout the year, weekly during the season and monthly during the offseason, and these issues are made available to PFW Online members in PDF format.
Since our electronic edition is always available by 7 p.m. ET on the day that it's published, it's your fastest way to get an issue of Pro Football Weekly.
You'll have access to everything in our print edition in the same familiar look and feel, plus a fully-searchable and easy way to enjoy it.