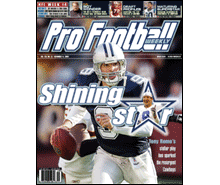 PFW Online: Vol. 21, Issue 22
Published: 2006-12-04
Cover Date: December 11, 2006
This is the issue for Week 14 previews and Week 13 game coverage.
Dallas finds a solution at QB
After years of attempting to find a franchise quarterback to replace Troy Aikman, Cowboys Nation is abuzz about Tony Romo — the cocksure young passer who has given his team the spark it needed.
Eric Mangini is quite different from the Jets' last head coach, bringing a disciplined approach to a team that has already surpassed all expectations for 2006.
Homegrown talent
Julius Peppers grew up in North Carolina, played collegiately at UNC, and now stars in Charlotte for the Panthers. What makes him so good?
Scouting the big uglies
In his weekly series analyzing the top college players for the 2007 NFL draft, Nolan Nawrocki focuses on the offensive linemen.
Columnists
Trent Modglin
Jerry Magee
Barry Jackson
Bob Carroll
Departments
The Way We Hear It
Handicapper's Corner
Week 14 game previews
Scout's Notebook: Vikings DT Kevin Williams
Fantasy Buzz
Fantasy statistics
Week 13 game coverage: NFL standings; Game-day review; Players of the Week; Power rankings; Teams on the rise and decline
Week 13 game statistics
Individual statistics
NFL team statistics
NFL team rankings
NFList: Cornerbacks with the best makeup speed
Audibles
NFL transactions
PFW Slant with Dan Arkush
PFW Online
PFW Online is the electronic version of our Pro Football Weekly print newsmagazine.
We publish 30 issues throughout the year, weekly during the season and monthly during the offseason, and these issues are made available to PFW Online members in PDF format.
Since our electronic edition is always available by 7 p.m. ET on the day that it's published, it's your fastest way to get an issue of Pro Football Weekly.
You'll have access to everything in our print edition in the same familiar look and feel, plus a fully-searchable and easy way to enjoy it.