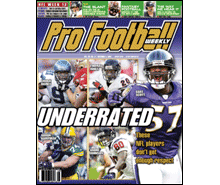 PFW Online: Vol. 21, Issue 21
Published: 2006-11-27
Cover Date: December 4, 2006
This is the issue for Week 13 previews and Week 12 game coverage.
Where's the respect?
We've all heard the fuss made over players deemed to be "overrated." But what about the guys who are "underrated"? We take a team-by-team look at which NFL players don't get the respect they deserve.
Making it look real for movies
Go behind the scenes as a new motion picture is filmed in Gillette Stadium. Learn how far directors will go to make sure that the gridiron action looks realistic.
Get the analysis that will help turn your fantasy team into a consistent winner. We look at the latest trends and offer up handy tips in the Fantasy Buzz.
Sizing up the pro prospects
In his weekly installment analyzing the top prospects for the 2007 NFL draft, PFW's Nolan Nawrocki focuses on the TE class.
Columnists
Court E. Mann
Jerry Magee
Glenn Dickey
Ron Borges
Departments
The Way We Hear It
Handicapper's Corner
Week 13 game previews
Scout's Notebook: Colts LB Cato June
Fantasy statistics
Key college game
Week 12 game coverage: NFL standings; Game-day review; Players of the Week; Power rankings; Teams on the rise and decline.
Week 12 game statistics
Individual statistics
NFL team statistics
NFL team rankings
NFList: Rapidly developing players
Audibles
NFL transactions
PFW Slant with Dan Arkush
PFW Online
PFW Online is the electronic version of our Pro Football Weekly print newsmagazine.
We publish 30 issues throughout the year, weekly during the season and monthly during the offseason, and these issues are made available to PFW Online members in PDF format.
Since our electronic edition is always available by 7 p.m. ET on the day that it's published, it's your fastest way to get an issue of Pro Football Weekly.
You'll have access to everything in our print edition in the same familiar look and feel, plus a fully-searchable and easy way to enjoy it.