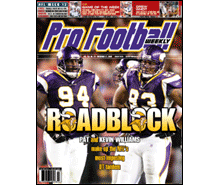 PFW Online: Vol. 21, Issue 20
Published: 2006-11-27
Cover Date: December 4, 2006
This is the issue for Week 12 previews and Week 11 game coverage.
The first family of defense
Buddy Ryan's twin sons, Rex and Rob, are making their marks on the NFL, thanks to the guidance of their innovative old man.
San Diego's new golden boy
When the Chargers decided last offseason that they would part ways with Drew Brees and hand the reins to the offense over to Philip Rivers, few people predicted the young passer would achieve such success so quickly.
The NFL's best D-tackle tandem
Kevin Williams and Pat Williams have combined forces up in Minnesota to create a nearly impenetrable Vikings interior D-line, which is stopping opposing runners cold.
Tracking the injuries
With the NFL injury report making news around the league like never before, we take a look at its origins and analyze if it's working in its present form.
Analyzing the WR prospects
Nolan Nawrocki goes deep in breaking down the crop of wide receivers set to make themselves available for the 2007 NFL draft.
Columnists
Jerry Magee
Don Pierson
Barry Jackson
Departments
The Way We Hear It
Handicapper's Corner
Week 12 game previews
Scout's Notebook: Dolphins S Yeremiah Bell
Fantasy Buzz
Fantasy statistics
Key college game: Notre Dame vs. USC
Week 11 game coverage: NFL standings; Game-day reviews; Players of the Week; Power rankings; Teams on the rise and decline
Week 11 game statistics
Canadian Football League
Individual statistics
NFL team statistics
NFL team rankings
NFList: Coaches who do the most with the least
Audibles
NFL transactions
PFW Slant with Dan Arkush
PFW Online
PFW Online is the electronic version of our Pro Football Weekly print newsmagazine.
We publish 30 issues throughout the year, weekly during the season and monthly during the offseason, and these issues are made available to PFW Online members in PDF format.
Since our electronic edition is always available by 7 p.m. ET on the day that it's published, it's your fastest way to get an issue of Pro Football Weekly.
You'll have access to everything in our print edition in the same familiar look and feel, plus a fully-searchable and easy way to enjoy it.