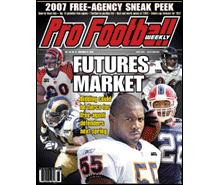 PFW Online: Vol. 21, Issue 19
Published: 2006-11-13
Cover Date: November 20, 2006
This is the issue for Week 11 previews and Week 10 game coverage.
While the 2006 season is just halfway complete, we believe it's never too early to get a jump on scouting the coming free-agent market. We offer our exclusive take on what the personnel landscape will look like come March 2007.
The spotlight is on the AFC West, home to the Chargers and Broncos. Can Denver's stingy scoring defense hold down San Diego's explosive offensive attack?
Rushing prospects
Nolan Nawrocki analyzes the best college running backs in the country and assesses their opportunities to make an impact in the NFL.
Ohio State vs. Michigan
Breaking down one of this season's most-anticipated college games, with an eye on which players have a future in the NFL.
Columnists
Eric Edholm
Jerry Magee
Ron Borges
Bill Wallace
Reggie Rivers
Departments
The Way We Hear It
Handicapper's Corner
Week 11 game previews
Scout's Notebook: Bengals OT Willie Anderson
Fantasy Buzz
Fantasy statistics
Week 10 game coverage: NFL standings; Game-day review; Players of the Week; Power rankings; Teams on the rise and decline
Week 11 statistics
Individual statistics
NFL team statistics
NFL team rankings
NFList: Best all-around safeties
Audibles
Canadian Football League
NFL transactions
PFW Slant with Dan Arkush
PFW Online
PFW Online is the electronic version of our Pro Football Weekly print newsmagazine.
We publish 30 issues throughout the year, weekly during the season and monthly during the offseason, and these issues are made available to PFW Online members in PDF format.
Since our electronic edition is always available by 7 p.m. ET on the day that it's published, it's your fastest way to get an issue of Pro Football Weekly.
You'll have access to everything in our print edition in the same familiar look and feel, plus a fully-searchable and easy way to enjoy it.